OCULUS QUEST 2 64GB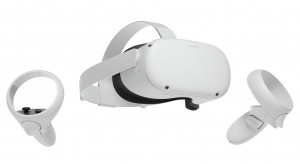 Virtual reality continues to gain headway as the most immersive way to game, and the units are coming down in price as sales boom and the technology gets cheaper to produce. Dive into the world of VR without the need for a powerful PC with the latest Oculus headset to escape reality.
Key Features
Size H12.6, W19.4, D41.6cm.
Comes with 2 x AA batteries.
64GB storage
One step down:
Evercade Retro Handheld Console (£79)
Next step up: Connects to your PC for all the big names in gaming
Oculus Rift S Virtual Reality Headset (from £299)
Details
The early virtual reality kits were heavy and required yards of wiring to connect to your PC or console. The new Oculus Quest 2 does away with that concept as a lightweight all-in-one unit that is one of the most advanced VR systems.
Popular games include racing title Dash Dash World, battle royale hit Population One, TopGolf ProPutt and many more. These games are largely exclusive to the system so don't expect the latest PlayStation or PC games to arrive.
You can download a range of games from the growing library to enjoy exploring worlds with unparalleled freedom. Using the handheld Oculus Touch controllers to navigate around the world and take actions from lining up a perfect golf shot to spinning around and shooting an enemy in mid-air.
Driving all this action is a set of next-level hardware. Inside the headset, a single fast-switch LCD offers a resolution of 1832×1920 pixels per eye at 72Hz refresh rates for super-smooth gaming, with three preset IPD adjustments to adjust to your eyesight. Powering the unit is a Qualcomm Snapdragon XR2 chip specially designed for virtual reality. But ignore the technology and enjoy the worlds they create in glorious 360-degrees.
Summary
Pros
Well-designed and comfortable hardware
A growing library of games
Cons
Requires a Facebook account for access
Accessories like the Elite Strap cost more
Rating
4.9 out of 5 based on 681 reviews
Find stock near you
Enter your location and click "search" to find local retailers in your area who have this item in stock today.
Or, buy online here
Please note that this website contains affiliate links, and we may receive a commission for purchases made through these links.