HP 15SS 15.6 I5 8GB256GB FHD LTOP+NORTON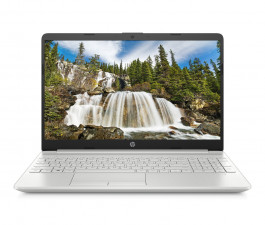 Laptop builders continue to cram in as much power in a small space as possible. So what can HP fit into this slim mid-range model to make it stand out from the competition while not standing out too much on your desk or weighing you down while carrying it.
Key Features
Intel Core i5 1035G1 processor.
15.6-inch HD screen.
8GB RAM DDR4.
256GB SSD storage.
Microsoft Windows 10.
One step down: If you just want to write, browse and watch video, this will do nicely
ASUS C523 15.6 Inch Celeron 4GB 64GB Chromebook (£249)
Next step up: If size is an issue, the Surface Go 2 packs lots into a tiny footprint
Microsoft Surface Go 2 (from £603)
Details
Fitting neatly into the student class of laptop that lives in between budget and worker models, yet someway down from the business-class and gaming laptops, the HP Slim 15.6" Laptop manages to pull off the trick of looking like a top-class unit and packing in plenty of power.
Under the impressive screen with thin bezels, the executive-looking sliver layout hides plenty of hardware power for most typical PC uses up to some light gaming. A 10th Gen Intel Core i5 processor provides plenty of muscle, supported by a long-lasting battery that should get you through the working day.
You can plug it into an HDMI monitor or big-screen TV for more detailed work or gaming, and it won't get too warm in use wherever you take it. There are plenty of USB ports (one Type-C) for accessories and it sports a headphone, unlike some newer laptops. There is no Ethernet port for wired networking, but you can get a USB adaptor to connect one if needed.
Windows 10 loads up in a snap, and applications and multitasking are pretty flawless whatever you are doing. There's also reasonable storage unless you need to download every episode of Game of Thrones. All of which makes the HP Slim 15.6" Laptop an attractive proposition for the student or home worker.
Summary
Pros
Fast, light and good-looking
Cons
Not a PC for top-end gaming
Rating
4.7 out of 5 based on 451 reviews
Find stock near you
Enter your location and click "search" to find local retailers in your area who have this item in stock today.
Or, buy online here
Please note that this website contains affiliate links, and we may receive a commission for purchases made through these links.